MLIMANI SAFARIS AFRICA [MSA] "Your Experts in Travel"
We are a local experienced Travel Company registered in Tanzania with its head office in Arusha. The company is a licensed "Class A" (#:000279) Tour Operator by Tanzania's
Ministry of Natural Resources and Tourism
.
MSA
operates mostly within East Africa Destinations includes Kenya, Tanzania, Uganda and Rwanda. We offer tailor made safaris whether small group, large group, Students tour, private packages, incentives, camping, lodge and tented camps safari."Mlimani" is a Swahili word means "on the mountain", which we chose because of the location Arusha city nestled within mountain area were located Mount Meru 4565m the Tanzania second highest mountain and Mt Kilimanjaro 5895m the roof of Africa nestled just two hours drive from Arusha city. Also the famous destinations as National Parks and Conservation Area in Tanzania are sited on highlands or mountains region within Northern circuit, hence "Mlimani Safaris" means Safaris on the Mountains!!!
COMPANY FOUNDER/DIRECTOR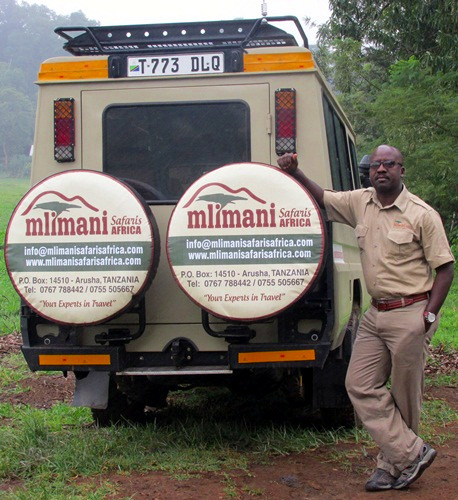 Emmanuel Simon Urassa: Founder and Director of Mlimani Safaris Africa, He is Tanzanian, born and raised in Arusha – Northern Tanzania. Emmanuel is a professional driver tour guide across East Africa with over 20 years of exceptional experience within tourism industry; obtained through guiding, managing, traveling and organizing Safaris in East Africa countries as Tanzania, Kenya, Rwanda and Uganda. With long years of safari and tour practice as well as contacts with People of various Nationalities and Culture have built up the understanding of client needs and know how to provide service with complete satisfaction. Emmanuel  is married and blessed with 3 kids; first born is Nikos; boy of 17 years old, second is Maria; girl of 13 years old and Hilde; girl of 6 years old. Get in touch with Emmanuel to create your life time safari experience in Tanzania and the all of East Africa Destinations.
MSA offers different kinds of safari joyrides and holidays across East Africa's top destinations as Tanzania, Zanzibar, Kenya, Uganda and Rwanda which are the most beautiful choices in Africa. It is your choice what you want to experience starting from easy going tours up to very wild and extreme tours; from Wildlife Safaris, Mountains Climbing, Beach Holidays, Day Excursions, Cultural Tours, Gorillas & Chimps Tracking, Balloon Safari, White Water Rafting etc. You can choose to enjoy the most beautiful nature and viewing "big five" game animals; Buffalo, Lion, Elephant, Leopard and Rhino and other species includes abundance of bird's species. Also climbing the highest peak or relaxing in exotic islands of Zanzibar. You can even discover amazing East Africa scenery & plains from the top views in a hot air Balloon.

With us you can explore East Africa destinations through creating your own tour (safari) to the favorable destination with attractions as landscapes, wildlife, cultural, scenery and activities as water rafting, balloon adventure, camel ride, canoeing, walking, hiking, climbing, motorbike, mountain bike, horse ride, camel ride etc. Several accommodation categories available depends to your budget and preferable; from basic camping (adventure safari) to luxury camping, from regular lodges/hotels to the luxury lodges/Tented Camps or high end accommodations.
We are flexible to create any particular safari depending on clients wishes to fulfill their utmost needs. Our company can adapt to any of your desires and requirements, and we are able to design safari of your dream……..not only safari but "safari Plus".
MSA SAFARI VEHICLE

Our Safari vehicles are 4WD Toyota Land Cruiser with roof hatches; pop up and flip flop roof types to ensure comfortable games viewing and taking pictures of wild animals, birds, landscapes and same time to keep you safe in the wilderness. We have both standard and extended safari vehicles; the standard one can carry maximum of five (5) passengers window seat and extended can carry maximum of seven (7) passengers window seat with additional things and services includes maps & wildlife books, binoculars, free WiFi internet charging system to charge camera, phone, battery also during game viewing we offer bottled drinking water, cup of tea or coffee in the car.
The cars are equipped with Fire extinguisher, Medical kits, Fridge to offer cool drinks, Spade, Two spare tires, Towing rope and Tool box.
OUR GUIDES / STAFF


We have highly qualified and committed staffs & guides with long years of experience in safari guiding and operations that always make our clients happy and satisfied.
Warmly Welcome!